Creating a lasting impression for others is taken up a notch when you're a tattoo artist. In this creative career, you're taking a client's vision and turning it into an artistic expression that lasts a lifetime. One of the best parts about the job is you get to work with clients from all walks of life and commemorate special moments or thoughts by doing their tattoos.
While being a tattoo artist sounds like the perfect job for artistically creative individuals, there are questions concerning the job. For instance, how can you become one? How much do tattoo artists make? Is being a tattoo artist worth it?
In general, being a tattoo artist guarantees a competitive salary while you exercise your artistic skills and creativity. Still learning more about the ins and outs of the job will help you decide whether this career's compensation and demands align with your needs and lifestyle.
Here's everything you need to know about a tattoo artist's salary, their duties and if the job is worth your time.
How Much Do Tattoo Artists Make?
"Do tattoo artists make good money?" is one of the top questions of people considering this career path.
The average salary of a tattoo artist is $57,673. Famous tattoo artists can earn up to $500 per hour or more. But in most studios, tattoo artists can earn $150 per hour per client. The amount you earn daily can depend on the number of clients you have.
The highest paying cities for tattoo artists (per year) in the United States are:
Boston, Massachusetts. $85,700.
Miami, Florida. $81,670
Newark, New Jersey. $79,270
Portland, Maine. $75,800
House Springs, Missouri. $68,600.
How Do Tattoo Artists Calculate Their Rates?
There are many factors that influence a tattoo artist's salary by the rates charged for tattoos. These include their years of experience and the number of tips received. Most tattoo clients tip their tattoo artists, especially if they did well. Overhead fees and equipment are included in the rates, too.
The basic factors that contribute to tattoo pricing are:
Base price. Tattoo artists charge a base price for their work. Artists have different base prices according to the color, size and design of the tattoos.
Some artists can charge their clients a rate per hour.
As mentioned above, artists can accept tips for their work, which can increase the tattoo's price.
As your reputation and experience grow, your clientele grows, too. By working on your skills, you can increase your clientele and charge more for your talent.
What are the Requirements Needed to Be a Tattoo Artist?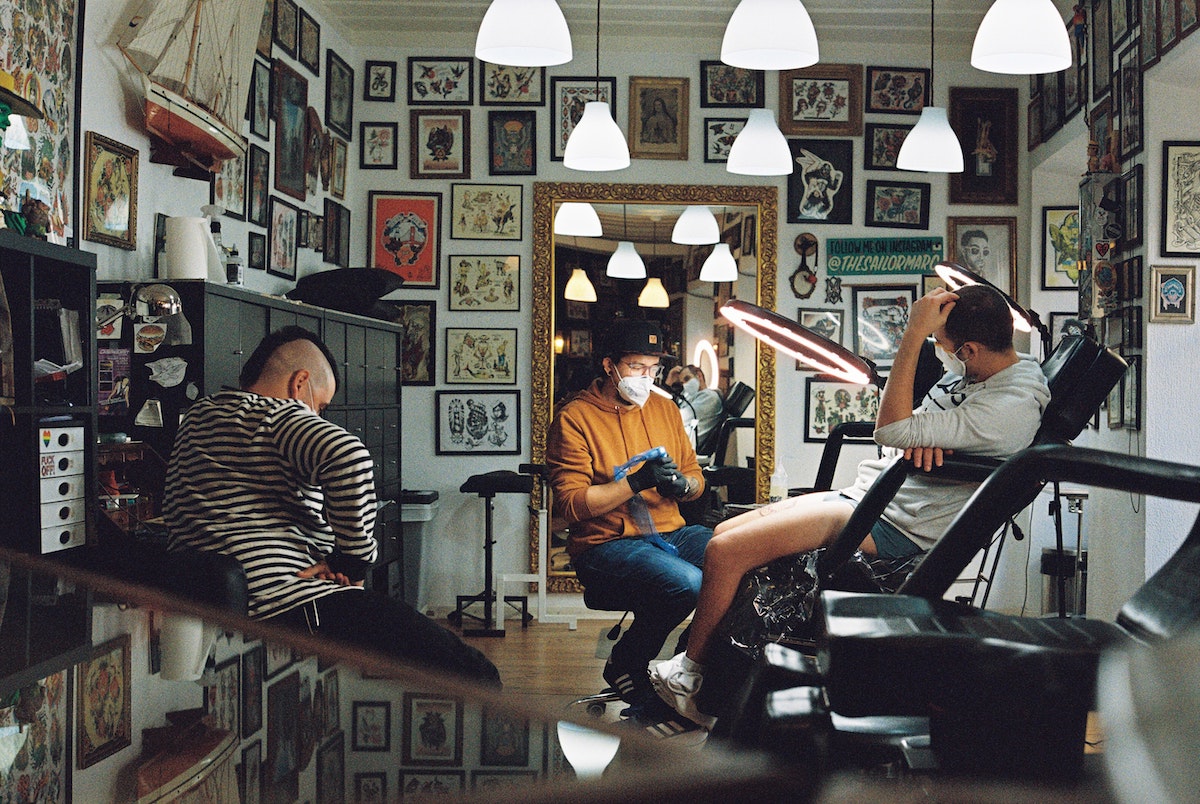 There is no formal education needed to be a tattoo artist, although some artists possess college degrees in fine art or other related courses. But it pays to invest in your education. Classes in business, marketing and accounting can be helpful, especially if you want to open your own shop. In general, a tattoo artist's career path begins with informal training under an experienced tattoo artist (aka an apprenticeship).
Certifications and licenses increase your reputation and credibility as a tattoo artist. However, this may require an apprenticeship under an approved setting. The apprenticeship period usually takes a year or two.
Some states also require apprentices to hold a special apprentice permit or license, which you can get by filling out a form and paying a fee.
The common requirements for tattoo artists include the following:
GED or a high school diploma
Blood-borne Pathogens (BBP) certificate
State tattoo license
CPR Training
Exceptional customer service skills
Portfolio
What are the Duties of a Tattoo Artist?
Tattoo artists are expected to perform the following tasks:
Schedule consultations and appointments with clients.
Work with clients on their custom tattoo designs.
Design tattoos.
Discuss tattoo colors, placements and size with clients.
Sanitize tattoo workstations and equipment before and after use.
Use instruments like needles to apply the tattoo on the client's skin.
Clean the skin at the tattoo site.
Shave the areas of the clients' bodies before tattooing.
What are the Employment Options for Tattoo Artists?
New tattoo artists often work for shops where they work in a shared space with other artists.
For beginning tattoo artists working for tattoo studios, you have the following benefits:
More clients. Working in a tattoo studio enables newer artists to expose their talent to a larger audience, which can help them build relationships with more clients.
Builds trust. When you work for a studio, more experienced artists can vet your abilities and work. This helps you gain trust from more clients.
Fewer tasks. Since you're working with other artists, you don't have to handle as many business tasks as independent artists. This gives you more time and space to focus on your art and less on budgeting and marketing.
If you are just starting out in the industry, consider offering free tattoos until you're sure about this career path. At the same time, you'll build up your portfolio. While establishing your name and brand, work a second job to secure a steady income stream.
If you've gained enough experience and recommendations from loyal clients, you can open your own studio or be self-employed.
Here are some of the perks of this job option:
Freedom in policy-setting. Some self-employed artists have the freedom to reject requests for works with certain designs or colors. You're free to set your policies for tattooing.
Set your own rates. Self-employed artists can set their own pricing for tattoos.
Flexible schedules. Along with the ability to set their prices, self-employed artist also has better control over their schedules.
Employment Outlook of Tattoo Artists
According to the US Bureau of Labor of Statistics, the overall employment of fine and craft artists (which includes tattoo artists) will grow 14 percent from 2020 to 2030, which is faster compared to other jobs. Nearly 6,000 job openings for fine and craft artist are projected each year over the decade. Many of these openings are due to the need to replace workers who exited the labor force or had to transfer to another job.
Do Tattoo Artists Get Vacation and Healthcare Benefits?
Some tattoo artists may receive health benefits if they work in a tattoo studio, but many are independent contractors who purchase their health insurance. Artists in studios can work as independent contractors who set a schedule can also have less flexibility with their vacation days.
How Can You Earn More Money as a Tattoo Artist?
If you want to gain more profits or earn a bigger salary as a tattoo artist, consider the following:
Raise rates. Once you gain more clients and experience, you can raise your rates for your services.
Social media. Use social media platforms to connect to a larger audience with your work. This can help you gain more clients and popularity.
Speed. Tattoo artists who can service more clients over time can earn more. Increased efficiency can come with more experience.
If you love your craft, want to be part of other people's milestones and earn money while you're at it, consider becoming a tattoo artist. It's a promising career both financially and artistically.