In the early days of conquests and people discovering new lands, it was common for the leader of an expedition or an influential person to name the settlement. Many of the cities and countries we know today were actually named during the days of colonization. However, based on a few locations across the world, it's clear that some people just aren't the best at coming up with names.
Around the world, you'll find strange and funny location names. There's Truth or Consequences in New Mexico, Boring in Oregon, and Backside in Scotland. But the weirdest and probably the hardest to pronounce is Llanfairpwllgwyngyllgogerychwyrndrobwllllantysiliogogogoch.
That isn't a typo. Llanfairpwllgwyngyllgogerychwyrndrobwllllantysiliogogogoch is an actual village in Wales. But what is the meaning of these letters, how do you even pronounce it, and how did it get stuck with such a unique name in the first place?
What Is Llanfairpwllgwyngyllgogerychwyrndrobwllllantysiliogogogoch?
First of all, here's to pronounce Llanfairpwllgwyngyllgogerychwyrndrobwllllantysiliogogogoch. The name is so long and convoluted that, upon entering the village, you see a sign telling you how to pronounce it.
Llanfairpwllgwyngyllgogerychwyrndrobwllllantysiliogogogoch is a village and the sixth biggest community in Anglesey, an island located in Wales. This is the village's official name which consists of 58 characters and 19 syllables, making it the longest location name in the United Kingdom and Europe and was awarded the distinction by the Guinness Book of Records.
In terms of world rankings, however, it comes second after Taumatawhakatangi­hangakoauauotamatea­turipukakapikimaunga­horonukupokaiwhen­uakitanatahu, a hill found in Hawke's Bay, New Zealand with a whopping 85 characters. And since Llanfairpwllgwyngyllgogerychwyrndrobwllllantysiliogogogoch has Welsh origins, it technically has only 51 letters since the "ch's" and "ll's" are considered single-letter digraphs in their language. That doesn't change its position as one of the longest place names in the world though as the third placer, Chargoggagoggmanchauggagoggchaubunagungamaugg(also known as Lake Webster) in the United States, has 45 letters.
If you're worried about sending a package or finding the place on Google Maps, don't worry about having to memorize or write down "Llanfairpwllgwyngyllgogerychwyrndrobwllllantysiliogogogoch." For the most part, its population (approximately 3,107 people since 2011) use the village's official short form name, Llanfairpwllgwyngyll. Its other unofficial names still used in various context include LlanfairPwllgwyngyll, Llanfairpwll, or Llanfair PG.
How Did It Get Its Name?
Although some people claim that the name was invented in the 1860s for promotional purposes as a means to attract tourists to the village, evidence suggests the name was around as early as 1849. In the early days of the village, nearly all the residents of Llanfairpwllgwyngyllgogerychwyrndrobwllllantysiliogogogochspoke fluent Welsh, hence the name deriving from their native language. To understand what it means, though, we have to take a look at its historical context.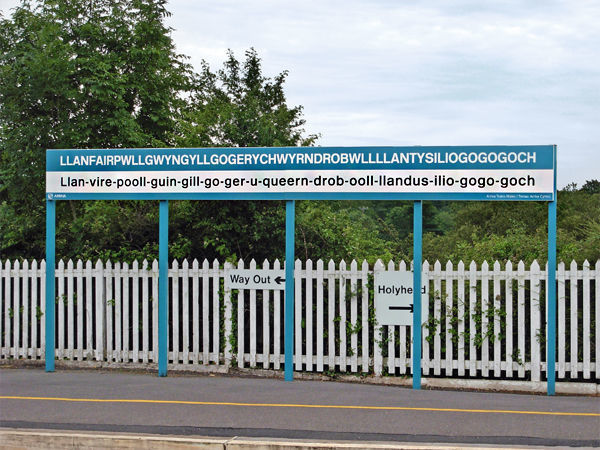 Prior to the Romans capturing the area under Roman Britain, the settlement was previously known as Pwllgwyngyll or "pool of the white hazels." Around the 7th century, a church was built and dedicated to the Virgin Mary, and "The Church of St. Mary" translated to "Llanfair." During that time, the village was known as LlanfairPwllgwyngyll or Llanfairpwllgwyngyll.
This is already a strange name for fluent English speakers. However, around the 1860s, the village wanted to have a longer name in an attempt to drive tourism and increase publicity. While the name Llanfairpwllgwyngyll was still used in most contexts, the name Llanfairpwllgwyngyllgogerychwyrndrobwllllantysiliogogogoch was born. In the Welsh language, this translates to "Saint Mary's Church in a hollow of white hazel near the swirling whirlpool of the church of Saint Tysilio with a red cave."
The village's name, according to Welsh linguist and writer Sir John Morris-Jones, came from an unnamed local tailor. The change also referenced several landmarks near its community, including a nearby whirlpool, the chapel of St. Tysilio in a nearby island, and a red cave which is actually a reference to the nearby community of Llandysiliogogo.
While publicity began in 1960s, local newspapers dating back to 1849 show that the long name had already existed, though the locals generally used the shorter version. Llanfairpwllgwyngyllgogerychwyrndrobwllllantysiliogogogoch's new name paved its way to having the longest railway station name in Britain. And thanks to the publicity of its new name, the village would welcome around 200,000 tourists every year.
How Do You Pronounce It?
The sign will tell you how to pronounce Llanfairpwllgwyngyllgogerychwyrndrobwllllantysiliogogogoch, but it may be difficult to do so correctly for those who aren't fluent in the Welsh language. The digraph "ch," for example, is pronounced like a "ck" or how you would pronounce the "ch" in "Loch Ness."And the "ll" is more of a "th" than an "ell" or guttural "l" sound than most English speakers say.
For a more accurate pronunciation, say this: "Thlan-vire-poothl-gwin-githl-go-ger-igor-chwen-drob-oothl-landus-ilio-goh-goh-goch." Or just listen to weatherman Liam Dutton pronounce it.
Llanfairpwllgwyngyllgogerychwyrndrobwllllantysiliogogogoch Today
Only around 71 percent of its population could still speak Welsh, so not all their residents may understand the meaning behind the name. But if you happen to visit the village, you'll find plenty of tourist materials that explain the history behind it.
Today, it is a large village in Anglesey accessible by car, railway, or plane for local and international tourists looking to visit. The village is home to notable figures such as painter Sir John "Kyffin" Williams, activist John Lasarus William, actress Naomi Watts, and harpist Siobhan Owen. Artist Wilfred Mitford Davies and actor Taron Egerton also attended schools in the area.
What to Do in Llanfairpwllgwyngyllgogerychwyrndrobwllllantysiliogogogoch
Unfortunately, aside from its name as a novelty, there isn't much to see in Llanfairpwllgwyngyllgogerychwyrndrobwllllantysiliogogogoch. While its train station and the Church of Saint Mary are two of the village's most notable places, there isn't much else to see. There are a few places to stay and eat in the village, but apart from the quaint village, there isn't that much else. If you're thinking about a vacation there, you might want to consider visiting other tourist locations in Anglesey. Some notable places to visit on the island include v Beaumaris Castle, the Anglesey Sea Zoo, the Pili Palas Nature World, and the Lligwy Burial Chamber.
Think you can pronounce this village name? Brownie points if you can do it perfectly on your first try. The story of Llanfairpwllgwyngyllgogerychwyrndrobwllllantysiliogogogoch is a fascinating one – almost as fascinating as its name. It just goes to show that there's a lot that goes into a name, though when people say that, I don't think they meant 51 letters meant to confuse the reader.