The future of the automotive industry is bright and promising. This industry will continue to operate during the COVID crisis and will further thrive even after the pandemic.
Forbes has highlighted 2021 trends in the automotive industry. These include the shift to computing power, automotive digital retail, and car connectivity using the Internet of Things (IoT). Also, health, wellness, and well-being (HWW) car features, electrical vehicles (EVs), and autonomous cars have gradually become apparent.
As such, the automotive industry presents plenty of opportunities to those looking to work in the industry. Even the International Labor Organization (ILO) underscores the need to invest in people and provide sustainable jobs.
If you're looking to work in the automotive industry, here are top jobs to explore:
1. Car Driver
If you own a car, it's a good idea to use it for ride-hailing services. All you have to do is to register in ride-sharing apps like Uber, LYFT, and Via. Apart from having a driver's license, most of them require you a clean driving record. For this reason, it's best to take an online BDIC or basic driver improvement course. Typically reported to the state, this course will help keep your driving record clean. Ultimately, car driving is a great way to make money during the pandemic, particularly if you've lost your job or closed your business.
2. Tow Truck Driver
It's a good idea to work as a tow truck driver. This job is typically on-call work, meaning your service is hired to attend to damaged vehicles on the road. You'll be responsible for securing the car to your tow truck and transport it to a nearby auto shop. Your ultimate goal is to get it out of the road as safely as possible. That way, the driver can get the car immediately repaired.
3. Auto Mechanic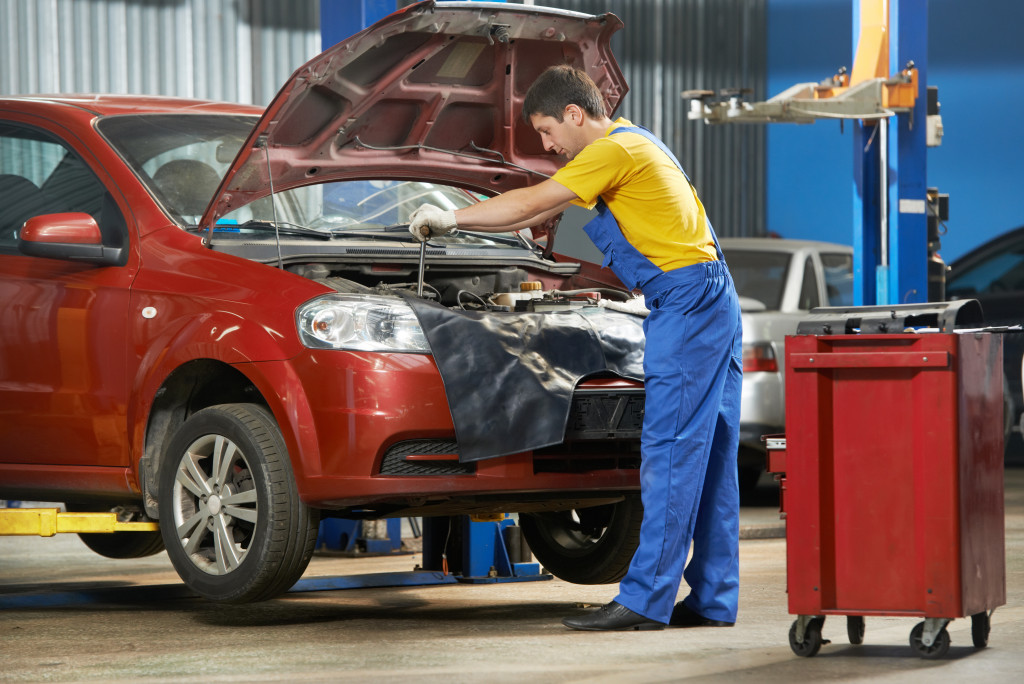 The auto mechanic has always been needed in the automotive industry. No matter how expensive and quality cars are, they are subject to wear and tear over time. Also, they require constant upkeep and some repairs from time to time. As an auto mechanic, you're responsible for performing tasks, such as regular auto inspection, maintenance, and even repairs. As such, you must have expert knowledge in auto parts and the necessary skills to fix and tune them up.
4. Auto Body Repair Technician
An auto technician is primarily responsible for auto body repairs. You have to handle damaged vehicles and deal with damaged frames, suspensions, dents, broken windows, and unaligned wheels. As opposed to an auto mechanic, an auto technician focuses on the car's exterior and non-mechanical components. Ultimately, your goal is to keep the vehicle in top shape and make it look brand new.
5. Car Detailer
While auto mechanics and technicians focus on internal or external repairs, car detailers handle auto cleaning. As a car detailer, you must clean both the interior and exterior of a vehicle. You can perform this task by washing, vacuuming, waxing, and even polishing. This job is particularly needed during this pandemic. However, the task includes not only cleaning but also car disinfection and sanitation.
6. Car Salesperson
A car salesperson is precisely what they are—a sales agent tasked to promote or sell vehicles. As a salesperson, you must have a thorough knowledge of the different car models your company is selling. You should be able to discuss and explain the pros and cons of each car model. Ultimately, you must help a customer make a purchase decision based on their finances, personal needs, and personal preferences.
7. Car Rental Agent
As opposed to a car salesperson, a car rental agent helps customers rent vehicles. You'll basically help a client get the right car, whether for personal leisure or business purpose. As an agent, you'll also present a fleet of vehicles to clients and make documentation for every rented car. At the same time, you'll oversee the actual conditions of these vehicles before and after rental. Lastly, you'll ensure the regular maintenance of the vehicle fleet.
8. Auto Engineer
An engineer focuses on the research, development, and design of assets and properties. As an auto engineer, your focus is on the production and development of car models. This is such a lucrative job, as you'll be contributing much to the automotive industry. As vehicles are constantly evolving, you must design car models adaptive to the changing times and responsive to the needs of people.
So there you have it—promising jobs in the automotive industry to explore! That said, be sure to consider one of the jobs mentioned and the valuable information discussed above. Whether you work as a car driver, auto mechanic, or auto engineer, the industry always offers some practical jobs.